Robert and I opened Next Level Rehab's figurative doors (we're a mobile PT company!) in May 2021. After a roller coaster year, we have learned so much. Running a small business is hard. Thankfully, we are slowly growing.  In this post I will share 5 key things we've learned over the past year and what our plan is for the future.  
Before we get into lessons learned, I'll summarize our year. Over the last year we have had the opportunity to work with 15 clients and conducted 63 exoskeleton therapy sessions.
Our clients have taken nearly 80,000 steps in the exoskeleton, approximately 40 miles.
It's been a blast.
We've laughed, sweated, and cried with our clients. Exoskeleton physical therapy can be quite emotional as people who haven't walked in years stand and walk. 
Here are 5 lessons we've learned running an exoskeleton rehabilitation company in our first year in business:
1. Having hope is critical.
Starting a business is a tough! It requires a great deal of hope, optimism, and perseverance. We have had days, even weeks, where the phone didn't ring, and we didn't get any emails or messages from potential clients. Those times were hard. We began to question ourselves… "Am I in the right business? Do people want what I'm offering? Why aren't people calling?" and on and on. It can be easy to get in our heads and become discouraged.
As a family run business, this is our only job. We have two small children to provide for. Should we quit and go back to the corporate world? The answer every single time is NO! We are doing the right thing. People want what we're offering.
We believe in our mission to improve the lives of thousands of people through exoskeleton rehabilitation.

When we come back to this mission, we remember why we started this business and have faith that the clients will come.
And they have.
And we are optimistic that they will keep coming.
2. We are not great at everything!
This may seem obvious. But as small business owners we wear every hat that is required to operate our business. Bookkeeper, that's me. Social media guru, that's Rob. Operations manager, that's me. You get the picture. Although we are doing everything for our business, it doesn't mean we're good at it.
That has been hard to accept. What I've learned is that it doesn't matter if I'm not good at one aspect of the business, I must do it anyways. So, if I have a task that I'm not great at I try to do it first thing in the morning when I'm the freshest and allot more time for the task then I think it will take. I try to push my ego to the side (you know the voice that says you can't do it) and do the dang task. And to be totally honest, sometimes the task sits on my to-do list week after week. Eventually I do the things I really don't want to do, and I move on. 
3. Breaking the mold has its challenges
You may be wondering what we are doing that's "breaking the mold." When Robert dreamed up the idea of a mobile exoskeleton physical therapy company, all we thought was how awesome it was going to be to make this type of therapy available to folks in Asheville and Western NC and that people would line up to try it. We thought that offering exoskeleton rehab in the novel way of taking it out of the clinical space, like hospitals and rehab facilities where it usually resides, and into the community, was going to be easy.
This is the component of our business that's unique and, as we understand it, has never been done before.
Until now this high-tech device has lived inside of a rehab facility or hospital. Using it at parks, in clients' homes, at a local gym, and at local hot spots, is great for clients. But it requires a solid logistical plan (hello un-forecasted rain!), and lots of driving. In addition to the unique challenges, we've experienced with our mobile PT model, it's been harder than expected gaining local partnerships and referrals.
We've sought out other healthcare professionals, specifically local neurologists, and physical therapists, to create partnerships and gain referrals. Since the technology is so new, and our approach to it even more so, we've found that it's not received as readily as we thought it would be. We haven't received the referrals that we thought we would.
We've learned that it will likely take more information and persistence with doctors before they'll accept us and the value of this technology. Another challenge is how to communicate about what we're doing.
We've learned that one of the most important things potential clients want to hear is current or past client testimonials. Now we have reviews, testimonials and videos of clients working with us that give potential clients confidence in Next Level Rehab.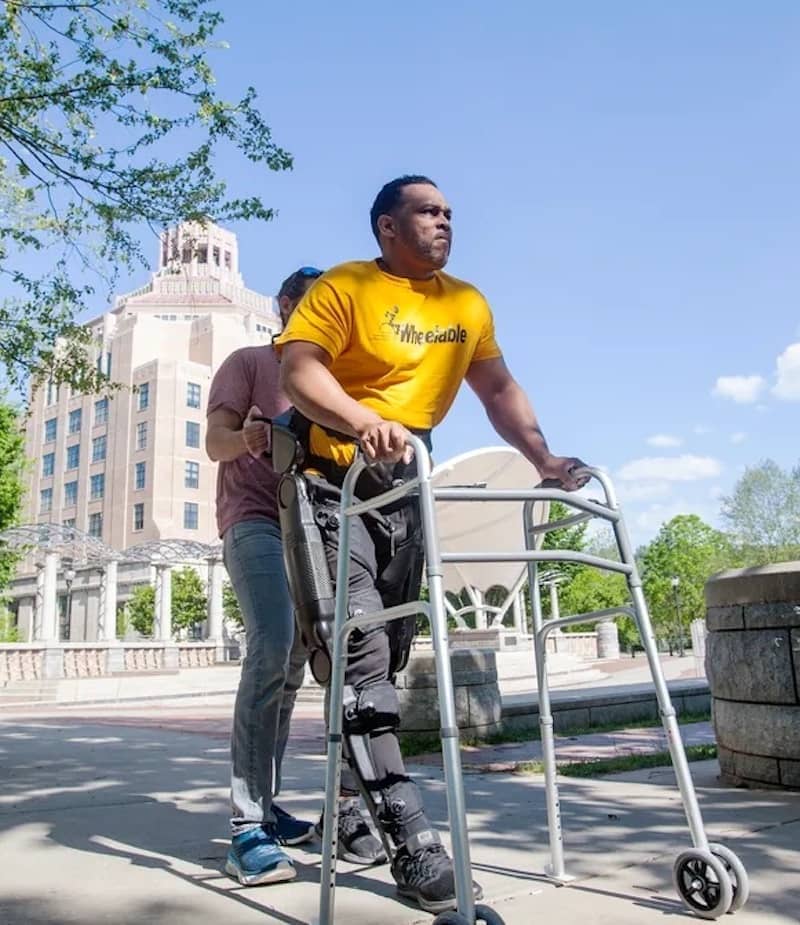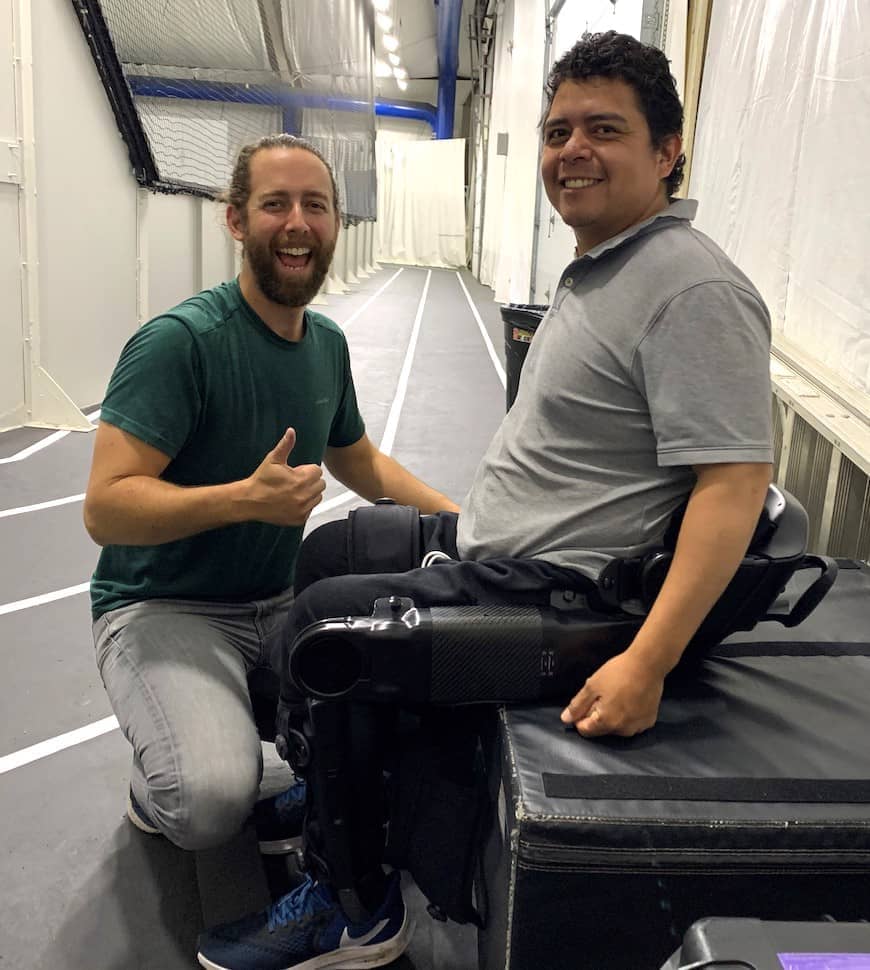 4. Insurance companies are years behind exoskeleton technology
I know insurance is pretty much a 4-letter word to a lot of healthcare companies for a lot of reasons. The lengthy contracting process, denied claims and relentless rules and regulations are problems for many companies. This is a well-known challenge and a normal part of doing business as a healthcare company that accepts insurance. What we didn't know was that insurance companies don't acknowledge exoskeleton physical therapy as a unique type of care. This means that they don't reimburse for exoskeleton PT. We are forced to charge traditional insurance codes for physical therapy.
This is one factor that makes becoming profitable as a small business specializing in exoskeleton rehab challenging. We're exploring many options for how to manage our costs including seeking grants and creating fundraisers to help us pay for the high cost of the exoskeleton device. It's not uncommon for insurance companies to take 5+ years to catch up to new technology before they start reimbursing for it. One recent example is telehealth. Although doctors and other healthcare professionals have been using telehealth for years, it wasn't until recently that insurance companies began reimbursing for it for services other than routine checkups.
We are hopeful that insurance companies will soon see the value in exoskeleton physical therapy as it's been well documented in clinical research and start reimbursing for it. Until then we're doing our best to make ends meet to continue offering this life changing type of care.
5. Sometimes we need someone or something else to show us what's possible
If you played or watch sports, you probably know that coaches are invaluable. If it's a great coach, they get more out of players than the players even know they have in them. This is also true for great physical therapists. A great physical therapist helps clients overcome fears of pain and injury so they can realize the benefits that are possible with consistent physical therapy. That's what our Chief Physical Therapist Robert does. I've had the pleasure of watching him safely push clients to keep going, walk one more step, to improve their walking or get the most exercise they can out of one session.
He crafts a personalized home exercise program and supports them in making it work for them. He is that great coach that provides encouragement, jokes and a little tough love when needed. Then you have the exoskeleton. This tool coupled with Robert's high-quality PT empowers people living with paralysis to stand, walk, and exercise again in ways that were considered impossible until recently.
Over and over, we have seen tears fall from clients or one of their family members eyes when they see what's possible with this device. It brings hope. Not only to people who thought they would never walk again, but also to people who have had a stroke and after their progress plateaus in traditional PT.
After using the exoskeleton sometimes just once they see improvements in their walking. Witnessing people's progress and seeing their emotion shows me over and over that what we're doing matters. We must push through the many difficulties and barriers to find success. Not only for us and our family, but for our clients and their families too.
As we close the books on our first in year business and reflect on these lessons, we have so much gratitude for our clients, mentors, and friends and family members that have helped us along the way. We couldn't have done it without them! 
Year 1 down, how many more to go? We're not sure, but Robert and I have high hopes for this business. Our plan is to find profitability as a mobile exoskeleton physical therapy business here in Asheville. This is our proof of concept. After that we want to expand to bigger cities. Eventually, we plan to have Next Level Rehab's throughout the country. 
We've learned so much and no doubt have tons more to learn.