Next Level Rehab offers physical therapy in the comfort of your own home in Asheville and Hendersonville.
 In-home therapy sessions are convenient, private and 100% focused on you. Our expert therapists will spend one full hour treating, educating, and empowering you to achieve the best results possible.
Traditional physical therapy
In home safety assessments
Equipment and assistive device recommendations
Home Exercise Program development
Advantages of In-Home Physical Therapy:
Your living situation has a unique set of challenges. The best way to overcome them is by working directly in that space.
Your home exercise program will be tailored to your unique home and can include your own equipment.
100% focus on you without the distractions of other patients and therapists.
Experience the In-Home Physical Therapy difference, with Next Level Rehab.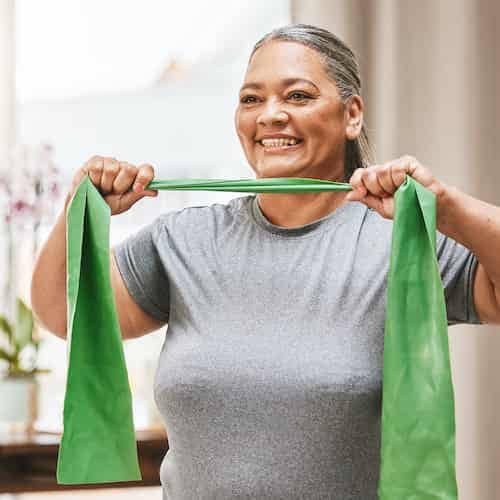 Schedule a free consultation
Tell us about your current condition and goals for therapy.
Receive care in your home
Your expert therapist comes to your home and brings all the equipment you need for success. 
Achieve your goals
Each session is designed to challenge and empower you to achieve your goals.
Frequently Asked Questions:
When can I get started?
There is currently no waiting list. Most new patients will receive their first in-home therapy session within 48 hours from signing up. 
What days and times can I receive therapy?  
You can schedule therapy between:
Monday-Friday: 8:00AM and 5:00PM
Saturday-Sunday: 2:00PM and 5:00PM
What happens on days that I don't receive therapy?
Your therapist will prescribe a home exercise and stretching program designed to maximize your progress outside of 1:1 therapy time. On non-therapy days, you will complete this program. 
What if I have questions for my therapist outside of our sessions together?
You can call or text your therapist directly with any questions or if you have additional needs. That's one-way Next Level Rehab is uniquely designed to support you! 
What is your cancellation policy?
There is no fee to cancel or reschedule your in-home therapy appointment with 24 hours' notice. If you cancel or reschedule with less than 24 hours' notice, a $35 fee will be charged.
Do I need a prescription or referral to receive in-home physical therapy?
A prescription or referral is not needed in most cases. North Carolina patients benefit from Direct Access, meaning no referral or prescription for Physical Therapy is needed. However, some insurance companies have specific requirements that may require approval from your doctor. Details like this will be worked out by our team in advance of your therapy sessions.
Do you accept insurance for in-home physical therapy?
Yes! We currently accept traditional Medicare, Blue Cross Blue Shield, Aetna, and Cigna.
What areas do you serve with in-home physical therapy? 
We serve the Asheville and Hendersonville areas in North Carolina. We will consider traveling outside of Asheville and Hendersonville including into Greenville, South Carolina, and surrounding areas. Depending on distance, travel fees may apply. 
Ready to take your next step?
We welcome and support people of all backgrounds and identities.
We accept Medicare, Blue Cross Blue Shield, Aetna, and Cigna
©2023 Next Level Rehab, LLC